FREQUENTLY ASKED QUESTIONS
Does it make sense to go into business debt?
For some companies, it does not make sense to create debt. If your company is in trouble, getting additional debt can make the situation worse.
If, however, you're experienced and have a healthy business, carefully selected debt makes perfect business sense! This is especially true if you consider the cost of missed opportunities.
Through the proper use of unsecured short term debt, you can really improve your bottom line. Use debt to:
Purchase stock at a discounted rate,
Go on a marketing drive,
Exploit seasonal opportunities,
Purchase alternative types of equipment,
Renovate your premises, or…
Simply invest in the growth of your business.
That is why more and more savvy business owners are leveraging debt, in order to return enough profits to pay back the loan …PLUS maximise their existing cash flow for other opportunities.
Needless to say, it also makes sense to grow your business with somebody else's money.
How much will unsecured finance really cost?
There is no set cost. Our rates are tailored to each individual client, based on industry, business history, turnover, cashflow and other variables.
Before we fund any of our clients, we make sure that both parties benefit. The client wants the best rates as much as we want the loan paid back. Ultimately, as far as the actual rate is concerned you would need to give us a call.
Early settlements will not trigger penalties or extra costs.
The fact that 80% of our clients re-finance with us, is evidence that we provide great rates and service.
Are you a last resort lender?
NO we are not. We cannot help businesses in trouble. We can however help businesses that are healthy, but who cannot get a bank loan due to their strict qualifying criteria. Our application process is easy and the application approval is fast. That is why many of our clients prefer our services and use us again and again.
Why choose UCapital?
As one of the first in the industry, we have built a reputation for responsible lending. We have hundreds of happy clients and 80% of them use us more than once. We offer quick service, which often results in cash in your pocket on the same day of application.
How do I know that you are giving me an honest rate?
We were one of the first unsecured lenders in Australia. We understand the SME market. We are in this business to help SMEs and not destroy them. We use our data scientist and well-seasoned credit engine to provide a reasonable loan that your company can afford to pay back.
80% of our clients use us again. Take a look at some of our testimonials.
Can I get an unsecured loan from banks?
Yes, it is possible, but very difficult to get an unsecured loan from the bank. Many of our customers have existing relationships with their banks and large asset portfolios, but still find it difficult to raise finance for certain needs. If you want to jump on an opportunity, you can't afford to wait 3 months for the bank. That's where we come in.
Will it negatively affect my credit rating if I get declined?
If a business has made repeated credit enquiries over the last 3 years, and you have been declined on many occasions, then YES being declined again by UCapital can damage your credit score.
That is why we take care in our prequalification process, BEFORE we get your approval to check your credit file. In that way, we avoid affecting your credit score negatively.
How much do I qualify for?
As a general rule, we can lend between 70 and 90% of business's average monthly turnover. For example, if your turnover is $100,000 a month, we could potentially give you a short-term loan of $80,000. This, however, depends on the information you provide.
What is the difference between a secured or an unsecured loan?
Secured loan. Traditional lenders will usually attach some form of security to a loan, like property
Unsecured loan. If you don't have equity in your property and you don't have the time to wait, an unsecured loan is your next option. We look at the loan differently. Once we have determined you have a good business and reputation, we understand you are motivated to keep it that way. We don't attach a property to the loan, rather we base the loan on the health of the business and its ability to repay the loan.
How do I apply?
We have made it easy to apply online or over the phone. For loans under $100 000, we will need a copy of your driver's licence and 3 months of bank statements. Loans over $100 000 will require additional paperwork.
Once approved we will send you an offer and once accepted, you can receive your money by 4pm that day.
What is the Product?
We provide loans to SMEs between $5 000 and $250 000. Loans under $100 000 require no security. The term is generally 3 to 12 months, but can be extended to 24 months. Payments can be made daily, weekly or fortnightly.
FREQUENTLY ASKED QUESTIONS
How long will it take me to apply for a loan?
How do our loans compare to other business funding options?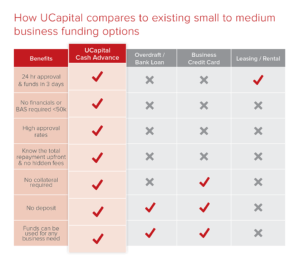 How long is "short-term"?
Our loan terms are between three and 12 months, but typically our loans run between six and nine months. Most loans are paid back within six months. Some customers like to pay back early, and there is sometimes a discount for doing so. Other customers like to keep their weekly costs down, so they spread their payments over 12 months.
Is a UCapital short-term business loan right for me?
A UCapital short-term business loan is right for you when you:
Need money quickly — we approve loans in three to seven working days
Can't get a loan from the bank because you:

Don't have property to attach as security
Don't want to attach your home as security
Have reached your overdraft limit
Have a default against your name

Can't wait or go through a lengthy application process
What will you need from me?
We'll need to know who you are. A driver's licence is usually enough. And we'll need an idea of how your business is going.
For loans between $5,000 and $50,000, we'll look at your last three months' bank statements.
For loans between $50,000 and $250,000, we'll look at:
Your last three to six months' bank statements
Your most recent financials, receivables, etc.
How does my business repay the loan?
Agreed repayments are made daily Monday through Friday or once a week
A percentage of credit card/EFTPOS transactions is automatically paid towards the loan
How quickly can you approve a business loan?
We aim to approve loans in five working days or less. Sometimes it takes less than 24 hour
How much can I borrow?
We offer short-term unsecured business loans of up to $250,000. The maximum amount you can borrow is based on the revenue and cashflow of your business.
What can I use the money for?
The loan can be used for any business purpose. Our clients typically use their short-term business finance:
To grow
To increase revenue
To improve efficiency
To decrease costs
As working capital when many bills are due at once
Do I qualify for a loan?
To qualify for a short-term business loan you need to have at least:
A business more than 12 months old
Turnover of more than $5,000 per month
Regular cash flow (daily, weekly or monthly)
What is the interest rate?
The interest rate on our loans depends on the health of your business and its cashflow. When we have the details in your application, we'll be able to tell you how much you can borrow and the total amount you'll have to pay back, including fees and interest.
Call us on 1300 1234 55 to talk about your needs
or